The Lancaster Safety Coalition has been producing significant impact in the area of public safety for more than fifteen years, and with our original cameras being recently replaced by state-of-the-art models and more locations coming soon, that impact is expected only to grow. Every six months, we will provide fresh data on where we are making gains on providing support to local law enforcement and defense attorneys and even the few places where our numbers are trailing behind those from prior years.
LSC Success Rate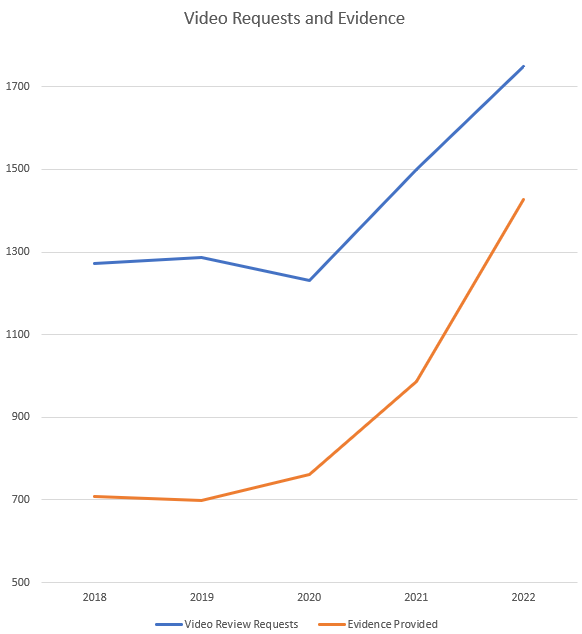 Video Review Requests: LSC receives 3 to 6 video review requests on an average day. These requests can be for reviews as short as a few minutes for an incident like a traffic accident or as long as several days.
Evidence Provided: The number of times LSC was able to provide usable evidence as snapshots or video to law enforcement agencies.
Success Rate: When a video review request is received and we are able to provide evidence.
Volume of Data Provided as Evidence
Providing more data means not just providing evidence for more incidents, but providing more and higher quality data per incident – telling a fuller story of an incident, what led up to it, and what occurred in the moments after.
LSC Activity
| | 2018 | 2019 | 2020 | 2021 | 2022 |
| --- | --- | --- | --- | --- | --- |
| Number of Incidents Monitored Live | 7547 | 6865 | 4603 | 4846 | 4299 |
| Times Live Video Shared with County 911 During Incidents | 5586 | 5634 | 4103 | 4220 | 3545 |
| Hours of Live Monitoring Public Events | 128 | 247 | 119 | 79 | 101 |
| Before / After School Monitoring Hours per Year | 370 | 349 | 91 | 208 | 309 |
About our Data
LSC staff keeps records of all uses of the camera network while working to fulfil our mission of enhancing Lancaster's community safety. Every incident that the cameras are used to assist with is recorded in a custom database. Several details for every incident are recorded, for example the type of incident, when it started and ended, and all the cameras used during the incident. We have maintained consistent internal records for over a decade of how the system is used. We feel transparency is an important part of our work as a local nonprofit organization.
Should you have any questions, please contact us at info@lancastersafetycoalition.org